Earlier this month Marquise Technologies has participated in a workshop organised in Geneva by the European Broadcasting Union (EBU) on Personalized Sound Experience workflows, in order to explore the production and distribution of Next Generation Audio.
In world premiere, we were able to demonstrate in live different workflows for the creation and the edition of these new formats using our mastering solution MIST and our player ICE.
About ADM  and Personalized Sound Experience
Personalized Sound Experience is about providing the end-user with access to multiple language commentaries, adaptive speech intelligibility, additional Audio Description and immersive sound.
Based on object-based audio, it avoids the need to generate multiple mixes in parallel and permit to create and deliver them all in one.
ADM (Audio Definition Model) is a codec-independent metadata format for the description of audio content. ADM can be used to create compatible content for all major distribution NGA codecs such as MPEG-H Audio and AC-4.
ADM in MXF
Until now the ADM was mostly stored in BW64 files (aka BWF+ADM). However, this format has some limitations when it comes to the versioning and the archiving of final content (video + audio).
The publication this year of the SMPTE Standard ST 2127-10, for the mapping of Metadata-Guided Audio (MGA) signals with S-ADM Metadata into MXF opens new horizons for the production and archival of Serial ADM. The work on ADM into MXF/IMF is still in progress at SMPTE.
Having ADM stored in an MXF container has several benefits: for example, the content can be used in current broadcast systems as is, without conversions. In addition, the MXF container eases and ensures the synchronisation of the audio and the video, as well as the versioning of the content.
ADM vs S-ADM ?
ADM metadata can be carried as a single XML document or "frame-based" as Serial-ADM. Both approaches have different characteristics, and are best suited to different scenarios in MXF.
For example, S-ADM is more suitable for interchange for IP streaming or broadcast, while "plain" ADM can be preferred for offline masters requiring PCM audio format.
ADM for legacy broadcast workflows
It is already possible to add ADM metadata is existing content wrapped into MXF, like an XAVC file.
This operation permits to enrich an existing catalogue with Personalized Sound Experience metadata, without making any change to the existing infrastructure: the ADM metadata will be simply ignored by the playback or editing device not supporting ADM.

ADM and IMF
The SMPTE is currently working on the standardisation of two plug-ins for the support of ADM and S-ADM into IMF. This is a natural extension of the support of ADM in MXF, and it brings additional benefits.
For example, MIST mastering system is able, thanks to the IMF's component-based structure, to create a package containing different profiles of ADM and keep them untouched. A typical example at the mastering stage is the insertion of a logo before the finalized content: it may come with a different ADM profile, and this can cause incompatibility outside an IMF structure
One of the demonstrations during the EBU workshop was an experimental IMF + ADM delivery workflow for the BBC. Organised together with BBC R&D, the demonstration used MIST to import three different pieces of content (each received as a ProRes file and a BWF+ADM audio file) and create an RDD 59-1 IMF package as required by the BBC UHD iPlayer Delivery Specification. This IMF package was then converted with the BBC R&D bmx tools to simulate its processing in the BBC ecosystem.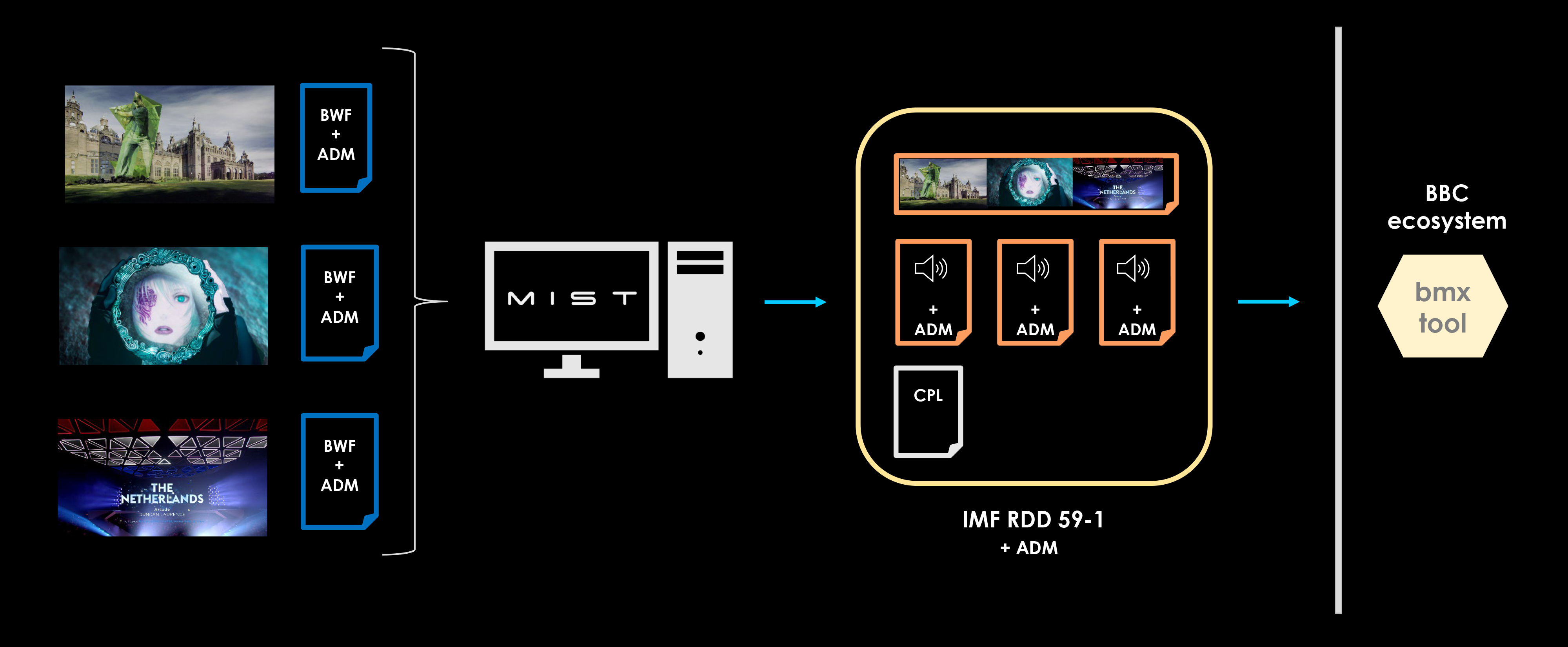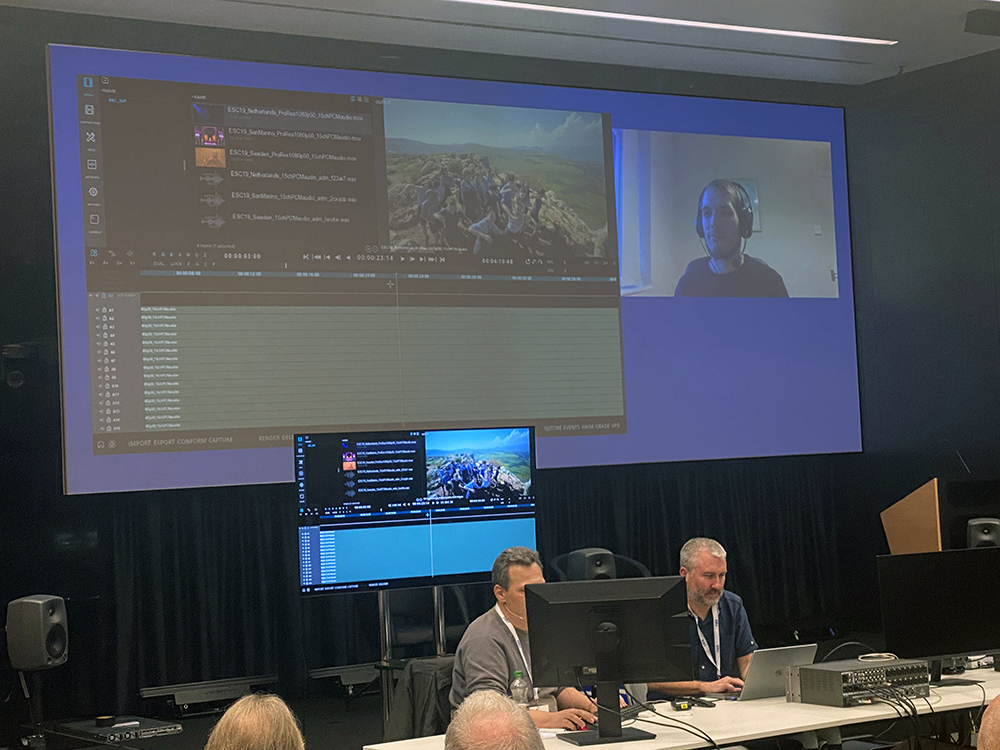 Interoperability of the ADM format
Another demonstration during the workshop was to work with a file in MXF ST 2127-10 with S-ADM created using Fraunhofer IIS's MPEG-H Authoring Suite, and to prove the interoperability between the vendors.
Different operations have been performed using our mastering system MIST, like the inspection of the ADM metadata, the edition and cut of the file to create different versions, or the assembly of two separated files.
At the end, MIST has exported the different versions in new MXF with S-ADM files, that were after perfectly read by the MPEG-H Encoding and Muxing Tool, for the goal of creating the final distribution files in MPEG-H mp4.
 Need for testing ?
Our new desktop player ICE Prime allows you to inspect ADM metadata, as well as the proprietary metadata that may be stored.
Contact us for a demo version.
 – ADM in MXF is supported by the latest versions of MIST, ICE and TORNADO –